Producción, ventas y consumo: reflexiones sobre el papel del género en las tiendas grandes de Buenos Aires, 1883-1930
Donna Guy

Ohio State University Profesora Distinguida de Humanidades e Historia. University of Arizona, Profesora emérita, (Estados Unidos)
Resumen
Las ganancias de Harrods y Gath &  Chaves, las tiendas departamentales más importantes de Buenos Aires a principios del siglo XX, se emplazaban en edificios con espacio para muchos departamentos. Pero, la tradición argentina de comprar telas en lugar de ropa confeccionada y el uso de las tiendas grandes más bien como lugares de sociabilidad, hizo que las ventas fueran menores que las esperadas y, consecuentemente, más bajos los sueldos de las trabajadoras de sus fábricas.
Descargas
La descarga de datos todavía no está disponible.
Citas
Bunker, Steven (1997). 'Consumers of good t:' marketing modernity in Northern Mexico, 1890-1910. Mexican studies/ Estudios mexicanos, 13(2), 227-269.

Bunker, Steven (2010). Transatlantic retailing; the Franco-Mexican business model of fin de siècle Department Stores in Mexico City. Journal of historical research in retailing, 2(1), 41-60.

Bunker, Steven B. (2012). Creating Mexican consumer culture in the age of Porfirio Díaz. Albuquerque: University of New Mexico Press.

Clark, Lew B. (1918). Wearing Apparel in Argentina (La vestimenta en la Argentina). Washington: Ministerio de Comercio de Estados Unidos de América, Oficina de Comercio Exterior e Interior, serie miscelánea, 618.

Cohen, Deborah (2006). Household gods; The British and their possessions. New Haven and London: Yale University Press.

DeGrazia, Victoria and Furlough, Ellen (eds.) (1996).The Sex of things: gender and consumption in historical perspective. London and Los Angeles: University of Californnia Press.

Everly, Harold (1919). Furniture markets of Argentina, Uruguay, Paraguay y Brasil (Mercados para la comercialización de muebles en la Argentina, Uruguay, Paraguay y Brasil). Washington: Ministerio de Comercio de Estados Unidos, Oficina de Comercio Exterior e Interior, serie de agentes especiales nro. 183, Washington: Imprenta del Gobierno.

Fernández, Ana María (2016). 'Little Flat Furnished by Maple [...]': The 'English Taste' in Buenos Aires: The Thompson and Maple Companies (1887-1986). Journal of design history, 29(2), 137-160.

Lloyd, Reginald (1911). Twentieth century impressions of Argentina. Its history, people, commerce, industry and resources. Londres: Lloyd's Greater Britain Publishing Co., Ltd.

Milanesio, Natalia (2013). Workers go shopping: the rise of popular consumer culture. Albuquerque: University of New Mexico Press.

Nari, Marcela María Alejandra (2002). El trabajo a domicilio y las obreras (1890-1918). Razón y revolución, 10.

Needell, Jeffrey (1995). Rio de Janeiro and Buenos Aires: public space and public consciousness in fin-de-siècle. Latin American comparative studies in society and history, 37(3), 519-540.

Pascucci, Silvina y Kabat, Marina (2010). El trabajo a domicilio como empleo precario. Alcances y límites de la legislación que intentó regularlo en la Argentina. VI Jornadas de Sociología de la UNLP. La Plata, Argentina. Recuperado de http://www.memoria.fahce.unlp.edu.ar/trab_eventos/ev.5414/ev.5414.pdf

Pérez, Inés (2015 a). Apuntes pare el estudio del consumo en clave histórica. Avances del César, 9(13), 97-106.

Pérez, Inés (2015 b). Modern kitchens in the Pampas. Home mechanizzation and domestic work in Argentina, 1940-1970. Journal of women's history 27(1), 88-109.

Queirolo, Graciela Amalia (2009-2010). "Malos pasos" y "promociones"'. Aproximaciones al trabajo femenino asalariado desde la historia y la literatura (Buenos Aires, 1919-1939). Anuario Escuela de Historia Revista digital, 22 (1), 52-80.

Quesada, Josué (1999 [1919]). La vendedora de Harrod's y otros relatos. Bernal: Universidad Nacional de Quilmes.

Rocchi, Fernando (1998). Consumir es un placer: La industria y la expansión de la demanda en Buenos Aires a la vuelta del siglo pasado. Desarrollo económico, 37(148), 533-558.

Simmel, George (1971). Fashion (pp. 308-309). On Individuality and social forms. Chicago: University of Chicago Press.

Simmel, George (1971). On Individuality and social forms. Chicago: University of Chicago Press.

Tow, Martin (1933). Retired business man: an episodic biography. S/d.

Trentmann, Frank and Otero-Cleves, Ana María (2017). Paths, detours and connections: Consumption and Its contribution to Latin American history. Historia crítica 65, 13-28.

Wolff, Janet (2006). Gender and the haunting of cities (or, the Retirement of the Flâneur) (pp. 18-31). En D'Souza, Aruna y McDonough, Tom (eds.). The Invisible Flâneuse? Gender, public space, and visual culture in nineteenth-century Paris. Manchester and New York: Manchester University Press.

Zola, Emile (2001 [1883]). Au bonheur des dames. New York: Penguin Books.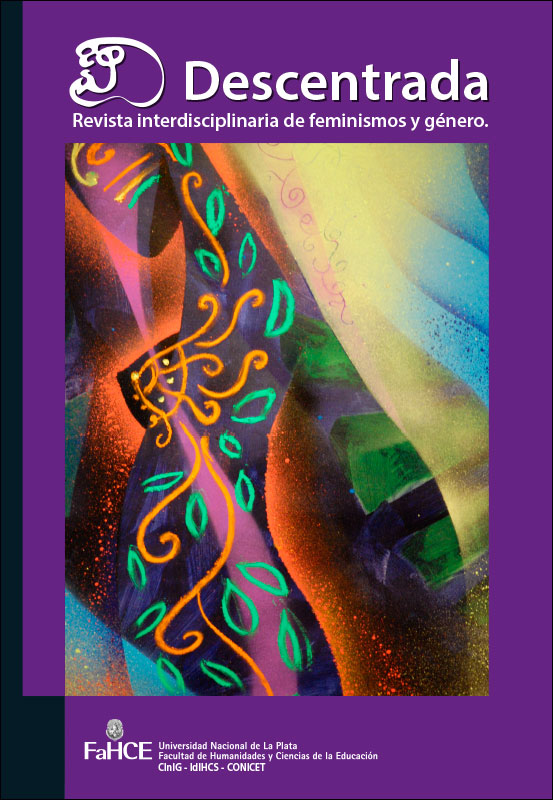 Cómo citar
Guy, D. (2018). Producción, ventas y consumo: reflexiones sobre el papel del género en las tiendas grandes de Buenos Aires, 1883-1930. Descentrada, 2(1), e037. Recuperado a partir de https://www.descentrada.fahce.unlp.edu.ar/article/view/DESe037
Esta obra está bajo licencia internacional
Creative Commons Reconocimiento-NoComercial-CompartirIgual 4.0
. Obra disponible bajo una Licencia Creative Commons Atribución-NoComercial-CompartirIgual 4.0 Internacional  (
http://creativecommons.org/licenses/by-nc-sa/4.0/
).